This month was a club evening with no external speaker. It concentrated on looking at how different yarns knitted up.
The committee members had prepared swatches of different yarns and textures to see the variety of fabrics produced. Over the next hour, we studied the way cotton, boucle, mohair, chenille, silk and acrylic performed with stocking stitch, tuck, slip, fair isle, lace and plating. Everyone participated in discussing the variety of uses for each fabric produced. Margaret had experimented how to use her chenille to best effect and keeping it stable. Her swatches were poured over with great interest.
Many articles were then shown by members with their accompanying swatches demonstrating how the finished work had progressed from the original swatch.
After the break, Frances demonstrated the use of the garter bar to the attentive members.
15 jumpers were collected that had been made for charity, following a request from April earlier in the year.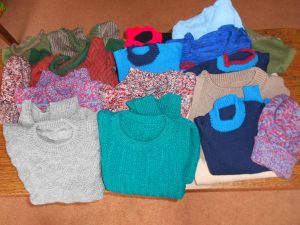 We managed to forget the lottery so it has been postponed until the June 2017 meeting. Remember to bring some cash.