Christmas Ideas
This was a regular club night with members bringing along ideas, patterns and items made for Christmas.
mini wreath

Mini Bell

Mini Stocking

Bears Star and Heart

Snowmen

Stars

Green mini wreath

Little basket for treats

Mini Tree

Stocking detail

Xmas Stockings

Festive Tea Cosy
These are some of the interesting items brought by members.  Many of them were tree decorations, except a festive tea cosy and a pretty little basket which had been stiffened with dilute PVA glue to make it stand up.
In addition, most people brought some patterns or old magazines with Christmas ideas.
Here are some links Margaret found to various sites with some of these small projects.
Santa ornament:
https://cckittenknits.wordpress.com/2016/12/04/machine-knitted-santa-ornamentpackage-tie/
Small gift basket
http://web.archive.org/web/20111211191921/http://www.northtipton.com/small_gift_baskets.htm
Wreath Ornament:
http://web.archive.org/web/20101227113902/http://www.northtipton.com/pattern8.htm
I think there is an error on this pattern and it should be: On the
second row at tension 3 it should read knit 2 rows (not 1 row).
Crochet Star Garland
http://www.patinamoon.com/2012/11/star-garland.html
Images of Christmas Tree Skirts:
https://www.google.co.uk/search?biw=1617&bih=948&tbm=isch&sa=1&ei=77-9W5X8MoGTkwXk8IRY&q=knitted+christmas+tree+skirt+pattern+free&oq=knitted+christmas+tree+skirt+pattern&gs_l=img.1.1.0j0i24k1.5117.6582.0.9815.9.9.0.0.0.0.292.856.6j1j1.8.0….0…1c.1.64.img..2.1.291….0.8P7FC5G3eyk

Show and tell
Gillian had made an octopus cuddle toy for a premature baby charity – the tentacles can be grasped by even the tiny babies and are requested by premature baby units. It was hand knitted and the tentacles crocheted.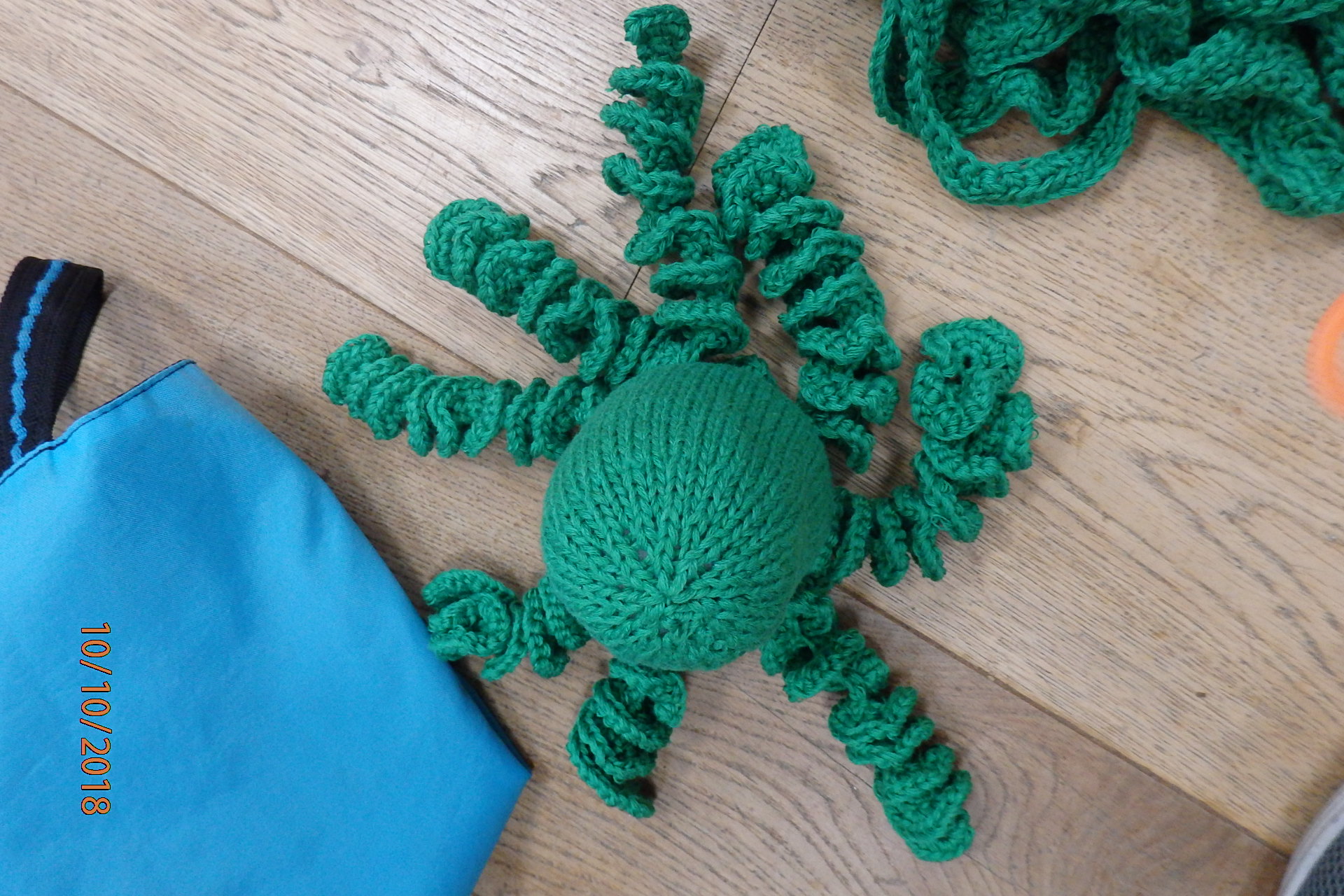 Show Report
On 6th October, Lyn had visited the Machine Knitting Live Show in Bournemouth and reported that it did not seem all that well attended at least in the morning. She did not stay for the fashion show or talk later in the day.
She had been round stalls selling machine spares, machines, yarns and patterns and a demonstration by Bill King, plus several clubs had displays of work. Many of them were regulars at this show.
There seemed fewer stalls than she remembered from previous occasions which may have been something to do with the fact the Knitting and Stitching show at Alexandra Palace was taking place soon after, although this no longer has machine knitting.